HOTEL BREUKELEN IS OPEN
Van der Valk Hotel Breukelen is (partly) open and applies stricter measures. We would like to ask you to take these measures into account to ensure your health and that of our employees. We hope to welcome you soon for a safe and comfortable stay at Hotel Breukelen.

Thank you for understanding and trust in our hotel.

View our taken measures
---
Safe and comfortable stay
At Van der Valk, the health, safety and well-being of our guests and employees has the highest priority. In order to guarantee your health and safety, we would like to ask you to observe the following policy during your visit to our hotel:
Follow indicated walking direction and hygiene measures
Keep 1.5 meters distance from other guests and employees
Do not shake hands with fellow guests or hotel staff
Wash your hands regularly and in accordance with RIVM guidelines
Use paper towels to dry your hands
Cough and sneeze in your elbow and turn away from fellow guests and hotel staff
Preferably pay with pin or contactless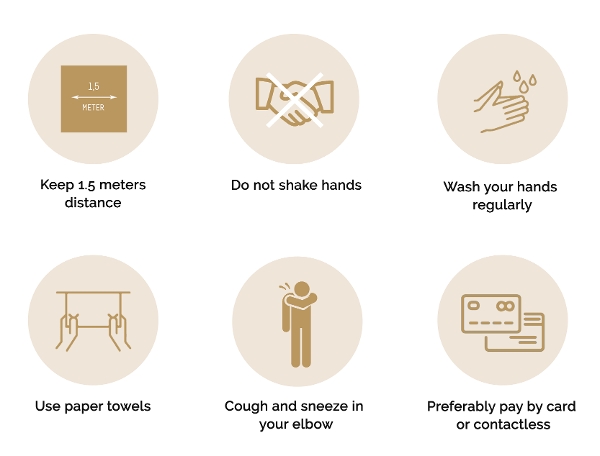 Do you have symptons of a cold, such as a runny nose, sneezing, sore throat, mild cough or increase to 38 degrees Celsius? Then we ask you to stay at home and not to come to the hotel.
We do everything we can to make your stay as safe and comfortable as possible. Thank you for your confidence in Van der Valk and we hope to welcome you in our hotel soon. If you have any questions, please do not hesitate to contact our reception via receptie@breukelen.valk.com or +31 (0) 346 265 888.
---
Restaurant & hotel bar
Naturally, we follow the guidelines from RIVM and the measures taken by the Cabinet. As a result, the restaurant will remain closed to outside guests until at least 1st of July.
The restaurant and the hotel bar are - according to guidelines from the government and RIVM - only open to hotel guests who spend the night in our hotel.
Until the 15th of May
We offer our hotel guests breakfast and dinner via contactless room service. This means that we will serve breakfast and dinner without contact and will place it at your room door.
Click here for the menu.
From May 15th.
From May 15 we offer our hotel guests a safe and delicious meal in our restaurant. This in accordance with the following measures:
The restaurant is open exclusively for overnight guests.
We work with warning stickers and ask you to follow them.
We ask you to wait 1.5 meters apart until our host shows you a table.
You can have a maximum of 4 guests at the table or when you have a shared household; up to a maximum of 6 people.
Keep 1.5 meters away. Both to our employees and to other guests.
To maintain sufficient distance, we serve at an appropriate distance via side tables, after which you can grab your order yourself.
Room service is available for both dishes and drinks.
Fitness & Wellness
The facilities in our hotels are limited available to prevent too many people being in the same places at the same time.
The fitness room and wellness area are closed until September. The health of our hotel guests is always number 1 and to guarantee this, these hotel facilities are temporarily unavailable.
At check-in you will be informed of the available times and we can immediately plan a visit for you. In these areas, too, stricter protocols apply for cleaning and hygiene.
The Fitness & Wellness is exclusively open to hotel guests with overnight accommodation.
---
Frequently asked questions

Can Van der Valk Breukelen be open as a hotel and restaurant?
Yes, according to government guidelines it is allowed to be open as a hotel. Food and beverage outlets in the restaurant for our hotel guests may be open. For outside guests, the à la carte restaurant and Live Cooking buffet restaurant will remain closed to ensure your health.
Is visiting Van der Valk Breukelen safe?
Van der Valk Breukelen takes your health and that of the employees very seriously. We have tightened measures within the hotel so that this can be guaranteed. All Van der Valk hotels are furnished according to the guidelines of the RIVM. As a hotel, we do everything we can to keep risks to a minimum.
As a hotel guest, can I use the restaurant facilities?
Yes, as a hotel guest you can use the restaurant. We use stricter measures here to make your visit to our restaurant as safe as possible. The à la carte restaurant is open but the Live Cooking buffet restaurant is closed to ensure your health.
Is it possible to order room service?
Yes, you can order room service from your hotel room via reception. There is an adapted menu for this that you will find in your hotel room. You can have breakfast and dinner brought to your hotel room.
What facilities are open in the hotel?
The indoor pool is open to hotel guests. However, reservations must be made in advance for a swimming pool visit. You can do this on arrival or you can make a reservation for this in advance at the reception via +31 (0) 346 265 888 or via reception@breukelen.valk.com
Is it possible to use facilities such as renting an (electric) bicycle at the hotel?
Yes, ask at the reception about the possibilities.
Can I cancel or change my booking?
With a refundable rate you can cancel or change your trip free of charge until 10 am on the day of arrival. In principle, you cannot cancel the trip in case of a non-refundable booking. For questions about this, please contact the hotel at reception@breukelen.valk.com or call +31 (0) 346 265 888.
Can I change my booking on the day of arrival if I have a cold or cough?
We ask that you contact the hotel at reception@breukelen.valk.com or call +31 (0) 346 265 888